Wire summit 2018 was an event to remember for everyone associated with blockchain, especially in India. The summit saw many renowned personalities and scholars from the blockchain community coming forward and talk about ideas and potential blockchain as a technology holds.
The event was graced by renowned ICO advisors Giacomo Arcaro, Giovanni Casagrande who talked about the influence of networking and ICO advisors for new players of the market and importance of a decentralized network for future.
J.A.Chowdhury, the special chief secretary and IT advisor to the chief minister of Andhra Pradesh, talked about the role of government in bringing blockchain in the mainstream. He also shed lights on how Andhra government is initiating the blockchain revolution in India through various blockchain projects and initiatives.
The event also saw young and dynamic Angellist investors Utsav Somani and MohakAgarwall talking about the money 7 investment in the blockchain. They talked about how people should not focus only on the money associated with the industry and try to understand and implement it rightly.
The indian blockchain crusaders and think tank included Anshul Dhir, Ankit Gaur and Opinder preet Singh. The topic of discussion was the role of indian government in regulating blockchain. The panel of experts were quick to point out that the issue is with cryptocurrencies and not blockchain itself. They also cited the example as a classic case of misconception where most of the population can't differentiate between blockchain technology and cryptocurrencies a by-product of the technology.
Tim Draper Talks Bitcoin and the Blockchain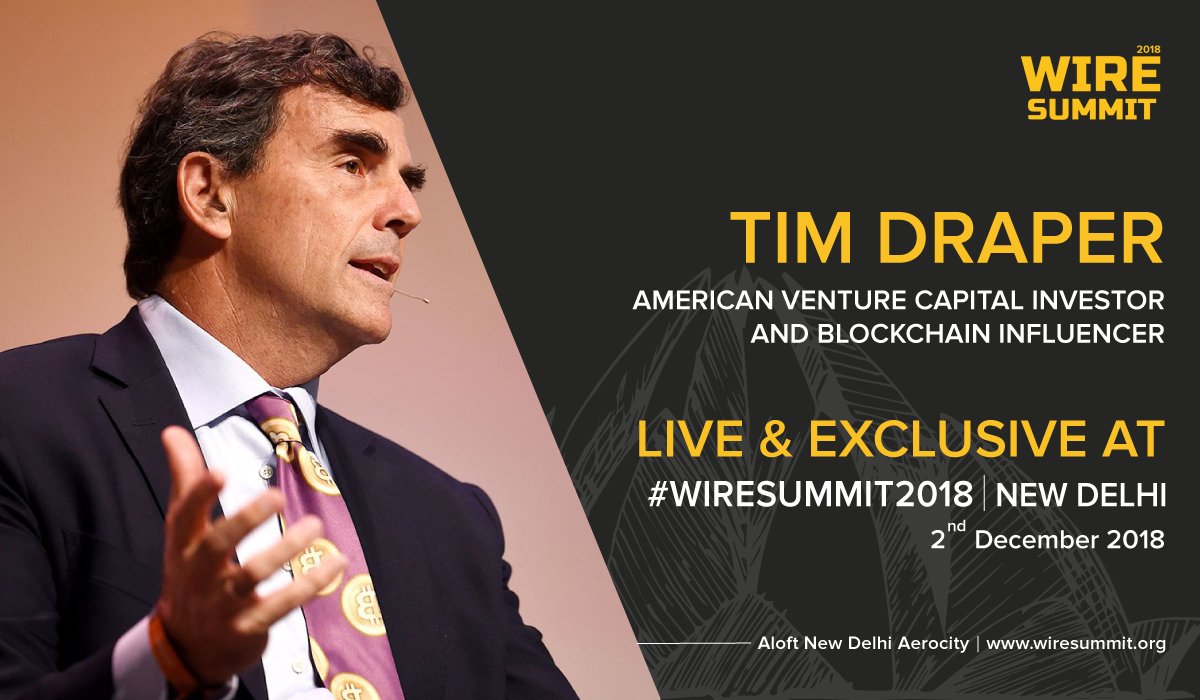 Tim draper the american venture capitalist could not mark his presence in person, but his support for the event and excitement was quite visible through the video message he sent. Tim Draper as a venture capitalist has a knack of smelling the potency of a new idea from years ahead. He was among the first to put his money on bitcoin and reap the riches later on.
On his passionate and enthusiastic video message, talks about his initial days, when he was thinking about a virtual world and how that could be made possible. When bitcoin came to the knowledge of the world in 2010, he was quite fascinated.
Tim says bitcoin was everything he ever thought of, a decentralised ledger system which is years ahead of the traditional ways. The most intriguing thing which attracted him towards the bitcoin was when MTGOX( where people initially used to store their bitcoin).disappeared with people's money once it imploded, and Tim thought, that's it, this will be the end of it. However, the news only plunged the value by 15%. This is when he saw the potential probably no one else did at that point in time.
Tim bought all the bitcoin put on sale by the government which they confiscated from the underground marketplace Silk road.
Tim also talks about how the distributed ledger system can be implied in many sectors of the present. The healthcare sector in particular would be highly benefited as the monopoly over the prices of medicines and hospitals are held by only a few pharmaceutical companies at the top. Tim finished his message with
"We are going to start to see this amazing sea of change, the world has just opened up.  In the virtual world, geographic borders have become non existent, and I am excited to see this transformation of the society. "