IBM's blockchain tech is being used by American data storage company Seagate, to verify the authenticity of a disk drive's electronic fingerprint. This is an effort by the firm to combat the problem of fake or counterfeit HDDs which are available for sale online as well. These generally are old drive units which are relabeled and claim to have higher speed and capacity. However, since these are old units their longevity is compromised as well as their speed. A statistics quoted by the International Anti-Counterfeiting state that the value of trade in counterfeit and pirated products stand at a staggering 1.7 trillion USD
The blockchain platform, powered by Linux Foundation's
Hyperledger Fabric
distributed ledger technology
 will register and record the electronic ID, to be provided by Seagate available at the time of manufacture as well as the product authentication data in its public cloud.
This eID, recorded on the blockchain can be updated during the drive's life, where information will be stored in order to facilitate compliance management with global data privacy laws that are emerging. The information recorded on the blockchain is public, permanent and immutable, and thus it is difficult, in fact almost impossible to sell off old relabeled drives with false specifics, since it's origin can be authenticated.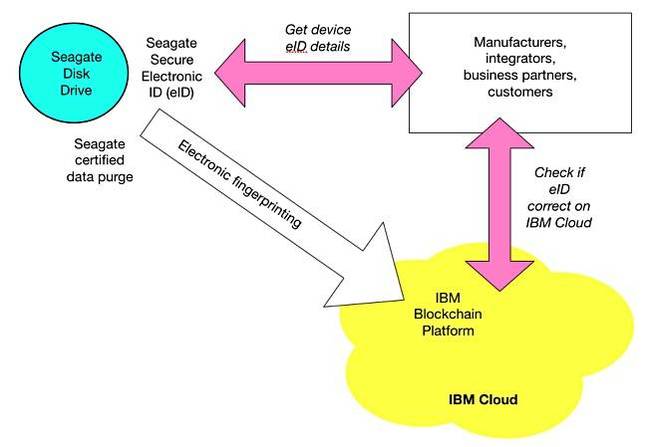 How much this technology can be implemented to remains a question for time to answer, though it all sounds very impressive in practice. Its success will primarily be dependant on the practicality of access and the cost. Accessing the drive details on the blockchain will require the seller to be forthcoming about said details in case of online sales. The efficiency of this complicated process is thus quite is thus doubtful.