No, we have not miraculously figured out who Satoshi Nakamoto is or where his living room is situated. But what we have done, is uncovered the exciting news, that the largest crypto payment getaway in Australia, Living Room of Satoshi, will now allow users to pay off any of their bills by using Verge (XVG).
(Read more about: Satoshi Nakamoto)
Be it electricity bills, or phone bills, or even credit card bills, one can now pay these off in crypto.  The platform accepts 14 different cryptocurrencies, giving its customers a range of options. Verge is the latest to announce their entry to this list. The numbers say, that already over 150,000 Australian bills have been paid at Living Room of Satoshi.
Following is a pie chart displaying the bills paid at Living Room of Satoshi by cryptocurrency.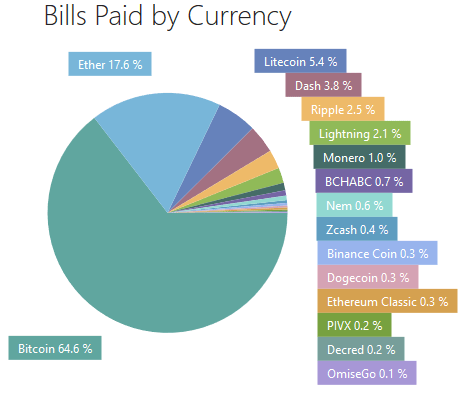 Australia has recently been undertaking a lot of great projects when it comes to blockchain. However, the crypto industry does not receive the same amount of attention or encouragement. This is just a major step in establishing the widespread acceptance of crypto in the country.
(Read: Blockchain Use Case-Payments)
On the personal front, it is a huge win for Verge (XVG) as well. Despite the recent tragedy of the cryptocurrency markets,  Verge (XVG) team has been doing really well for themselves. The asset has recently been accepted in Bitcoin Superstore as a payment method. Users can now pay with the crypto at more than 200 000 stores.
Currently Verge is trading at $0.00578296 and it reportedly has a current circulating supply of 15.4 Billion coins and a total volume exchanged of $1,255,13.
With each such news of crypto payments being accepted coming up, we notice a clear trend of wider acceptance of cryptocurrency as a legitimate form of payment being embraced by people, all across the world.