The recent Bearish trend in the crypto trade market has seen many alphas of the industry scum down to yearly lows, and a few new entrants have even vanished. One such aspiring product which has been mowed down by the recent bear attack is Dash Core Group (DCG). One of the most exciting projects of its time has gone under the hood after the trade market mayhem which resulted in a massive 85% loss in market cap. With zero to little news in the primary domain, many have claimed that the project is dead.
However, Ryan Taylor, CEO of DCG firmly believed that DASH would survive the hard winter. The CEO assured the world that his startup could sustain itself in the aftermath of the November 15 fork (considered to be the catalyst for current trends). Ryan also ensured that his startup need not take any drastic measures like staff layoff to maintain its lifeline.
Ryan said that the company has an excellent capital buffer which is designed for the hard times like these. The analytics seems to back Ryan's claims as the recent developments suggests booming DASH wallet download statistics, strong trading volume, and a recent successful network stress test Ryan has put out all these reasons on why his startup DASH is well prepared for the troubled times in a Medium article.
An excerpt from the article,
In short, the network keeps growing despite the price declines and the reduced speculation. Proud to see the strategy working on the metrics that determine long-term success. Heads down… we are getting there!
At the time of writing the DASH was trading at $70.17 a decent rise from the last week.
Many Startups Die Down in the Bloodbath
DASH through its innovative Capital buffer design survived the ongoing slaughter. However, not everyone was as lucky as the DASH and perished to the current bearish trends.
ETCDEV, an essential contributor to the Ethereum classic network has announced its closure on 3rd December 2018. The chief technology officer for the firm, Igor Artamonov, sent out the news through a simple tweet.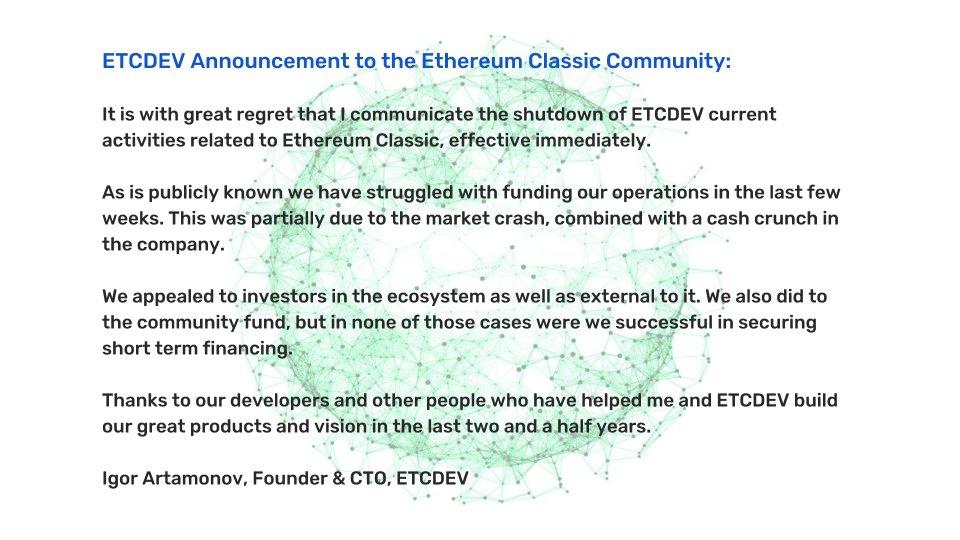 The technical officer and founder believed the lack of financial backing lead to the final shutdown. Many other players and small startups like Steemit, the company behind the decentralized social media platform that goes by the same name has announced a massive 70% layoffs, owing to the current financial crisis.
Ned Scott CEO of Steemit said,
"While we were building up our team over the last months, we had been relying on projections of basically a higher bottom for the market… Since that's no longer there we've been forced to lay off more than 70% of our organization."
Another blockchain based adult entertainment platform SpankChain saw a significant downsizing. The announcement was made by the CEO who said that the team is now working with eight individuals only and count down its monthly expenses from 4200,000 to a mere $80.,000.