Yahoo Finance has taken a major step in the field of cryptocurrencies and allowed the trading of cryptocurrencies such as Bitcoin, Litecoin, and Ethereum on the platform. Now these cryptocurrencies are tradable at Yahoo Finance and the traders will be able to buy and sell cryptocurrencies on the trading platform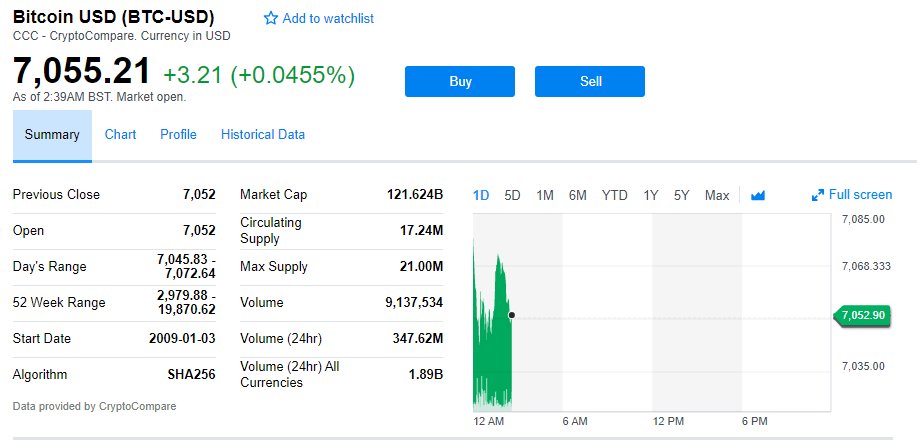 Founder and partner of Morgan Creek Digital has revealed the information on 29th August in a Tweet stating "the virus is spreading".
You can now buy Bitcoin, Ethereum, and Litecoin on Yahoo Finance.

THE VIRUS IS SPREADING 🚀

— Pomp 🌪 (@APompliano) August 29, 2018
Yahoo Finance has allowed the trading of only these three cryptocurrencies. Other virtual currencies such as Stellar, XRP, and Bitcoin Cash are still on hold and do not have buy and sell options, though the rank of XRP and Bitcoin Cash is better than Litecoin. Other cryptocurrencies which are displayed on Yahoo Finance do not have buy and sell options and it is not known when the platform will allow trading of these virtual currencies. The data which is used by Yahoo Finance is provided by CryptoCompare.
Integration of cryptocurrencies on Yahoo Finance is an important step towards the adoption of cryptocurrencies. It is a positive news for the crypto enthusiasts who are eagerly waiting for the approval of Bitcoin ETFs.
Countries such as Venezuela are adopting cryptocurrencies at large scale and you can find several retail stores in the country that are accepting cryptocurrencies. In the future, countries which are facing a high rate of inflation can also show their interest in cryptocurrencies. Virtual currencies need support from different mainstream platforms to be adopted all over the globe.