In case you are wondering if Tron will be a good investment, this new year, we might be able to help you out.
The extensive bearish market when it comes to cryptocurrencies has raised questions amongst investors as to whether Tron will be a good investment in the times ahead.
Some are even debating whether the crypto market is at all a worthwhile investment.
However, Tron has been the recipient of a continuous flow of good news, as the TRX coin is fast outpacing the rest of the top 35 currencies with a 24-hour growth of over 7%.
You may also read: A Beginner's Guide to TRON Cryptocurrency
What is Tron?
Before you invest in Tron or any cryptocurrency for that matter, there are certain things to know before investing in them.
Tron is a decentralized entertainment and content-sharing platform which uses blockchain and peer-to-peer (P2P) technology.
It is a next-generation social media outlet on which you can create and share content with anyone, anywhere in the world.
It is an open blockchain based protocol that enables people and enterprises to use the network in order to leverage their own digital content and subsequently secure it with a smart contract to ensure perfect execution.
Tronix is the basic unit of accounts on Tron's blockchain. It is the currency that pays you for your content, and is referred to as its ticker symbol, 'TRX'.
TRON cryptocurrency was first launched in the world through the Initial Coin Offering (ICO) in September 2017 by a non-profit organization based in Singapore.
Tron uses a transaction fee of about 5 cents per TRX, which is 0.000005 cents per transaction, thus enabling all users to make 200,000 transactions per TRX.
This rate is a very cheap one compared to some of the rates of the other currencies on the market.
You May Also Read: Will Cryptocurrencies Be Widely Accepted?
Why should you invest in TRON?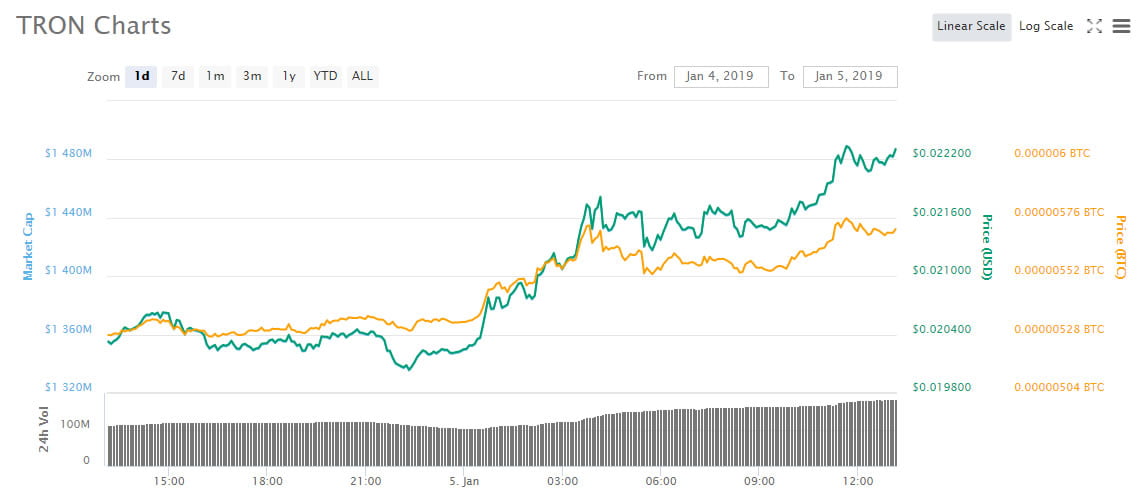 The factor triggering the rise of Tron may be the fact that the TRON Foundation and founder Justin Sun acquired the BitTorrent platform in June 2018.
At the time, it had propelled TRX upwards by 17%. BitTorrent now is slated to sell its token on the Binance Launchpad.
The network has also acquired over 1 million user accounts in just over six months. It now boasts of more than 80 dApps, within two months of launching the TRON Virtual Machine and smart contract functionality. 
TRON's cryptocurrency development team has expanded from 2 to 40 developers in less than a year.
It's also just drawing to a close the application stage of its TRON Accelerator program for aspiring dApp projects.
Justin Sun, the ambitious founder of Tron as a part of his 2019 resolution has expressed the wish of seeing TRX break into the top 4 cryptocurrencies by market capitalization.
TRX. as of now, is one of the top performing tokens which recorded a 10.53% to trade at 0.0224 USD. Currently ranked 10th, its daily volume has also surged from 110 million USD to 196 million USD.
Conclusion
Though it is natural to worry before making a lumpsum investment, it can be said without a doubt that if Tron maintains its momentum, then it'll turn out to be one of the best cryptocurrencies to invest it, in 2019.
Here are a Few Articles for you to Read Next: